About Footmac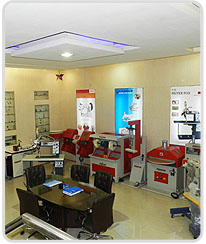 Footmac is one of the leading importer, exporter & representative of premium quality Footwear Machinery, Leather Goods Machinery, Equestrian Machinery, Industrial Sewing Machinery, Apparel Machinery, Accessories & Spare Parts. Footmac born in the year 2003 and located in the heart of leather hub Jajmau, Kanpur (India).

Footmac regularly supplying machines after import from various countries such as China, Taiwan, Japan, Italy, Germany etc. from the past 10 years and has collaboration with world leading brands as Eurora, Silver Fox, Seiko, Ares, SPS, Sagitta, Strobel, Elize, HO-Hsing, Kingsew, Brother, Maqi, Steamac, Dahfu, Schmetz etc. We also provide the facility of direct import from their international supplier to the valuable customers as per their requirement.

Presently, Footmac covers various Industries which are involved in the production of Footwear, Bags, Belts, Harness, Saddlery, Leather Goods, Upholstery, Mattress, Safety Belts, Slings, FIBC, Parachutes,Rainwear, Work wear, Rugs, Breeches and Apparels etc. Footmac also have its own service centre, big showroom and godown in which machines are displayed and also customers can see the demonstration of their required machine before buying.

Footmac has been focused on bringing innovative concepts and better technology to foster the growth of Indian leather and apparel industry. Footmac offered products are known for various qualities such as faultless quality, durability, excellent finish, high precision, simple operation, easy maintenance, scratch resistance, anti corrosive , long service life and many more. Clients can avail these high quality machines at reasonable and affordable prices.

We have a robust infrastructure to take care of our entire business activities with great care and all the departments have unmatched facilities which enable the team members to perform their tasks efficiently. Footmac builts its own identity and become its own brand in the field of footwear industry. Our biggest strength is our team which is known to perform in all the conditions, the team comprises of procurement personnel, quality analysts, marketing people, storage personnel, people working in delivery department. These personnels are masters of their respective fields and do their job with complete sincerity. Footmac has a team of professionals and highly experienced technicians and has extensive maintenance capabilities and a modern and professional service team. To ensure that we solve customer's problems in a timely and efficient manner, our professionals work in close coordination with each other in order to achieve organizational goal and share a common aim of serving our clients needs to the fullest. We have sufficient stock of machines and also have bulk stock of Spare parts & accessories so that customers should not face any inconvenience for the spare parts after purchasing the machine.

Apart from the quality products, we also provide our clients additional services of non- schedule delivery, installation ,packaging, customization according to the specifications given by clients.

We have been constantly upgrading our range and our production techniques to deliver the best to our clients.

Footmac regularly participates on national level of exhibitions looking for the latest innovations in the field of leather and garment Industries and plays an important role in bringing the latest reliable technologies at an affordable prices to its trusted customers.

The factors that can be responsible for our success are as follows:

• High Quality Construction Machine.
• Wide Range Availability.
• Competent and Experienced work force
• Perfect after Sale- Services
• Competitive Pricing.
• Transparent Deal


Footmac strongly believe that the success of our customers stands for our success. A good supplier grows only if his customers are winning in the market and our motto is "Latest Technology, Best Quality and Customer Satisfaction".